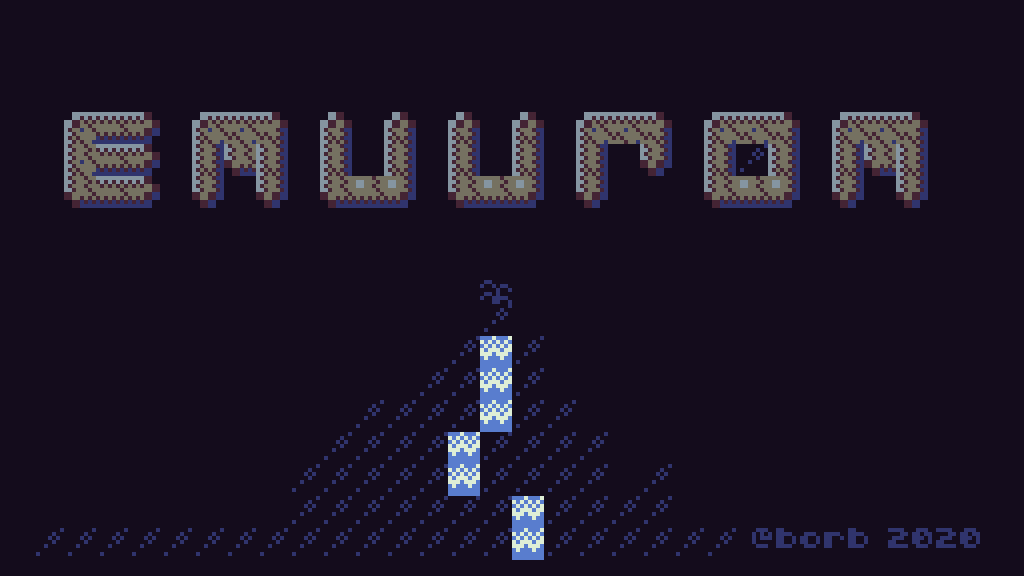 EMUUROM
EMUUROM status update 2020
---
Hei all,
here's a long overdue update on where EMUUROM is going at the moment. First off, let's make things clear and give the bad news: there's no way I'm gonna finish the game this year.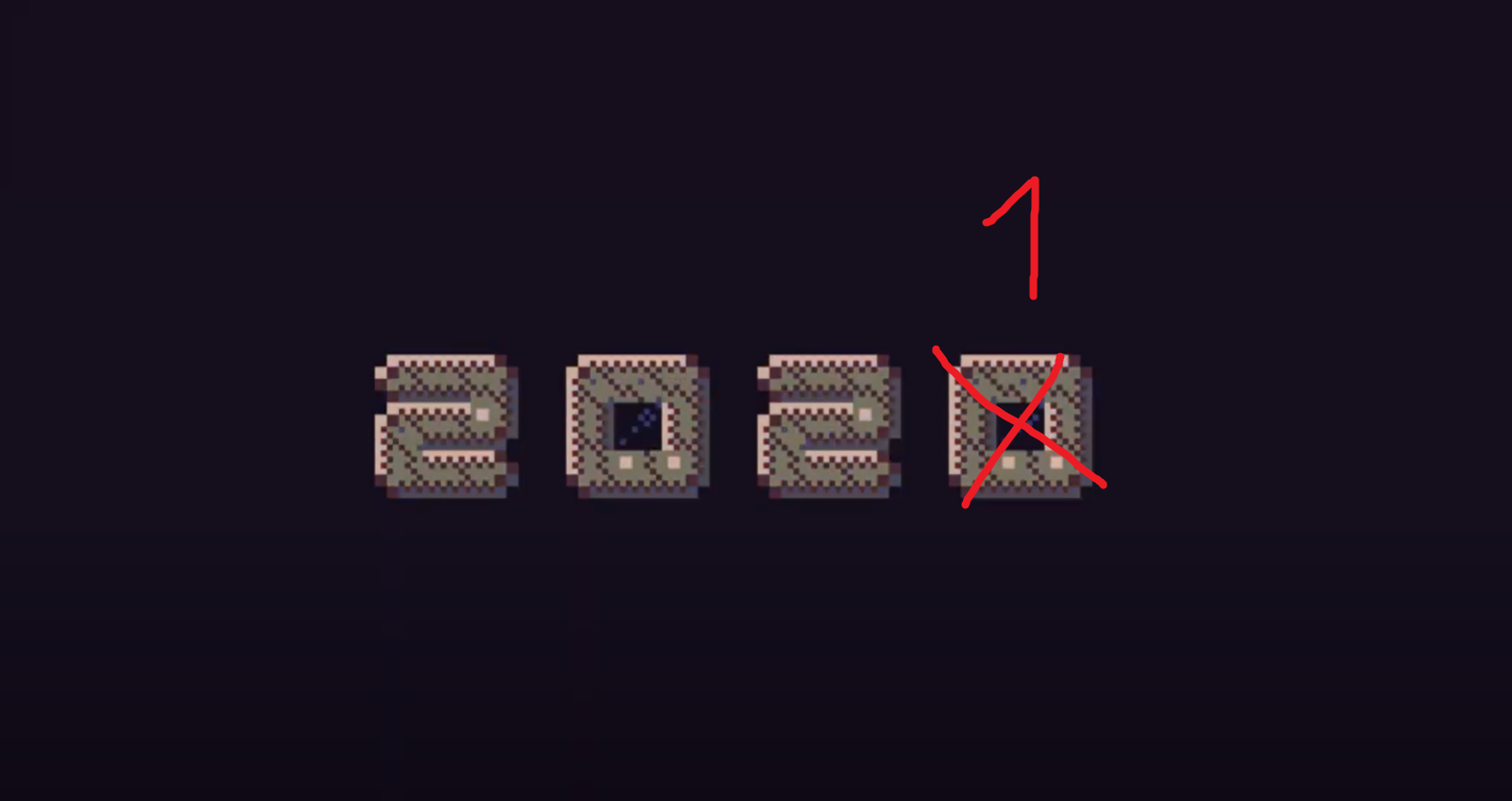 Here's to hoping I won't ever have to fix that 1 into a 2.
After finishing the demo in the summer, I started working on the next area (let's refer to it as area 2 for now), with the intention that I'd finish a new internal build 0.2.x quickly, so I could send it to playtesters for feedback. Well, turns out gamedev is hard actually, and I'm STILL working on that area. It's been coming along nicely, there are some new features I'd LOVE to showcase, but be it as it may, it isn't done yet - there was one particularly hard-to-design (and very important!) room that just hasn't clicked yet, and thus 0.2.x remains incomplete.
As development of that one room stalled, and some annoying bugs surfaced, making the game felt suddenly much less fruitful. There were fewer and fewer days when I got anything done anymore, and eventually everything came to a halt - I just... didn't work on EMUUROM anymore. I might open TIC-80 and play around for a while, but there wasn't enough juice in me to struggle through the annoying parts of the development.
This went on for maybe a month or so (who even knows really), and only a few days ago, I started working on EMUUROM again, and finally, got something new done! Development didn't feel that dreadful anymore, for at least two reasons: firstly, I'd just had a month off and the itch to finish the game had returned, and secondly, I'm lucky to know some wonderful people who had encouraged me to carry on!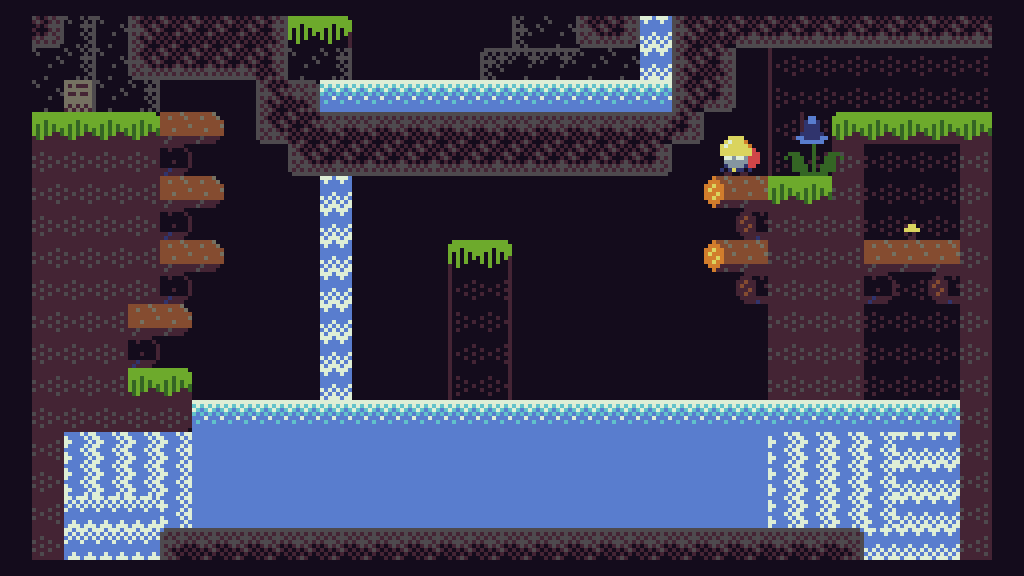 The Salamon are all pumped up! Let's get this thing done!
So where are we now? Well, I've not only returned working on EMUUROM, but also started to tackle the business side of things. I created a sole proprietorship for Borbware (yay! I have a game making company!), and begun the process for publishing EMUUROM on other marketplaces as well. Oh, and another process that started rolling; here on itch.io, there are already a handful of payouts for EMUUROM waiting for collection! Shoutout to all you kind people - the fact that someone wants to support a thing that I've created warms my heart!
In terms of actual development - well, there's still that one particular room that needs to be finished before 0.2.x can be sent to playtesters and I can move on to area 3. I have a soft deadline for the build - I'm aiming to get it done before holidays! (Btw - if YOU want to be an EMUUROM playtester as well, or just want to hang out with cool people, come join my discord! That's where I'll post those internal EMUUROM builds when they're finally done!)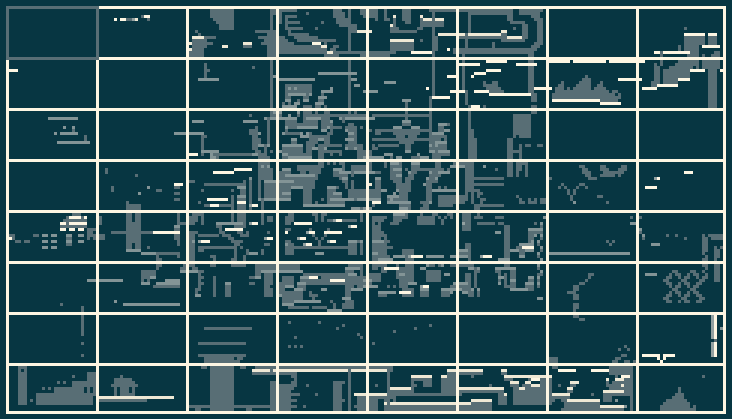 The latest map of EMUUROM, run through a filter so it doesn't spoil everything lol. I think it conveys which rooms are finished and which not....
To be frank, the next goal 0.2.x is still quite far off from 1.0. The full game is going to have five-ish areas, and only the first one (the demo area) is complete. Area 2 is about 90% done, but anything beyond that is still quite sketchy (see the map above!). So, umm, there's still a lot to make. Turns out that designing your first full game where every room is heavily interconnected isn't the easiest route, actually. I mean, one wrongly-placed tile might ruin a puzzle two rooms across, so I have to be reeeeally careful in the level design process.... oops!
But I wouldn't have it otherwise. After having so many rooms finished already (~22 out of 64!), and experiencing the sheer joy of crafting this strange little world, seeing different creatures interacting with each other, and jumping around from room to room, I can say for sure that I MUST finish the game, be it sooner or later. After all, EMUUROM is just the first game in something much bigger (with some sequels already under planning!). But I'm afraid that's a subject for another day....
Comments
Log in with itch.io to leave a comment.
hell ye, keep it up! making big games is hard and i have no idea how anyone ever does it
i know, right! every finished game seems like a miracle at this point lol. and EMUUROM isn't even that big!?!